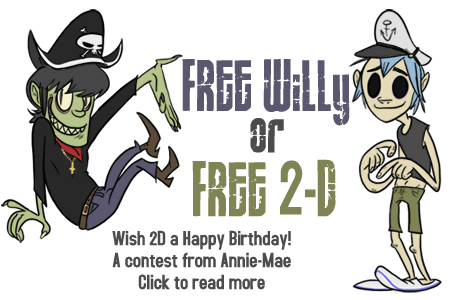 SO PLEASE PEOPLE LOOK READ THIS
WOOOOO BOY! Now that was a rush. I'm sure there will be more over the next few days, but going through all of that today was crazy. THANKS A LOT to those who gave 2D their well wishes and gifts. There were some people over at G.com that I'm not familiar with over here on DA, but if you HAVE a G.com account,
PLEASE TELL ME YOUR G.COM ACCOUNT NAME, and if you commented on his page at all.
FYI, I was NOT looking at Murdoc's page. I know you people bugged him as well as the other characters but the point was the spam 2D...Murdoc likes the attention anyway.
ALSO this is IMPORTANT!!!:
If you participated at all and you DON'T see your comment, image or ect, on this BLOG>>
[link]
please tell me so I can fix that. I want you to get credit. If you did a journal post, that helps. So yes please keep me informed.
>>>PERSONAL UPDATE: I Will be gone this weekend. I won't be getting back until Monday the 30th. There a lot of things I need to do, and I will link you to another journal where I'll be writing about that, so you keep me updated. BUT during that time I'm gone
the tumblr won't be posted to AT ALL.
Just letting you know that, so don't get mad if I seem to be ignoring you.
Otherwise a great turn out thank you all for entering.
SADLY we got nothing from Gorilliaz in return for our gifts. They're off on vacation or something. May-ish never came...or has no reason to come now so to say. Guess we'll have to wait until next year.
*-------------------------------------------------*
Photobucket // Blog // Live Journal

Commission Prices